Hyperphosphatemia Market is Projected to Grow During the Forecast Period 2032 – Estimates DelveInsight | Key Companies – Ardelyx, Kyowa Hakko Kirin, Shield Therapeutics, Chugai Pharmaceutical, Daiichi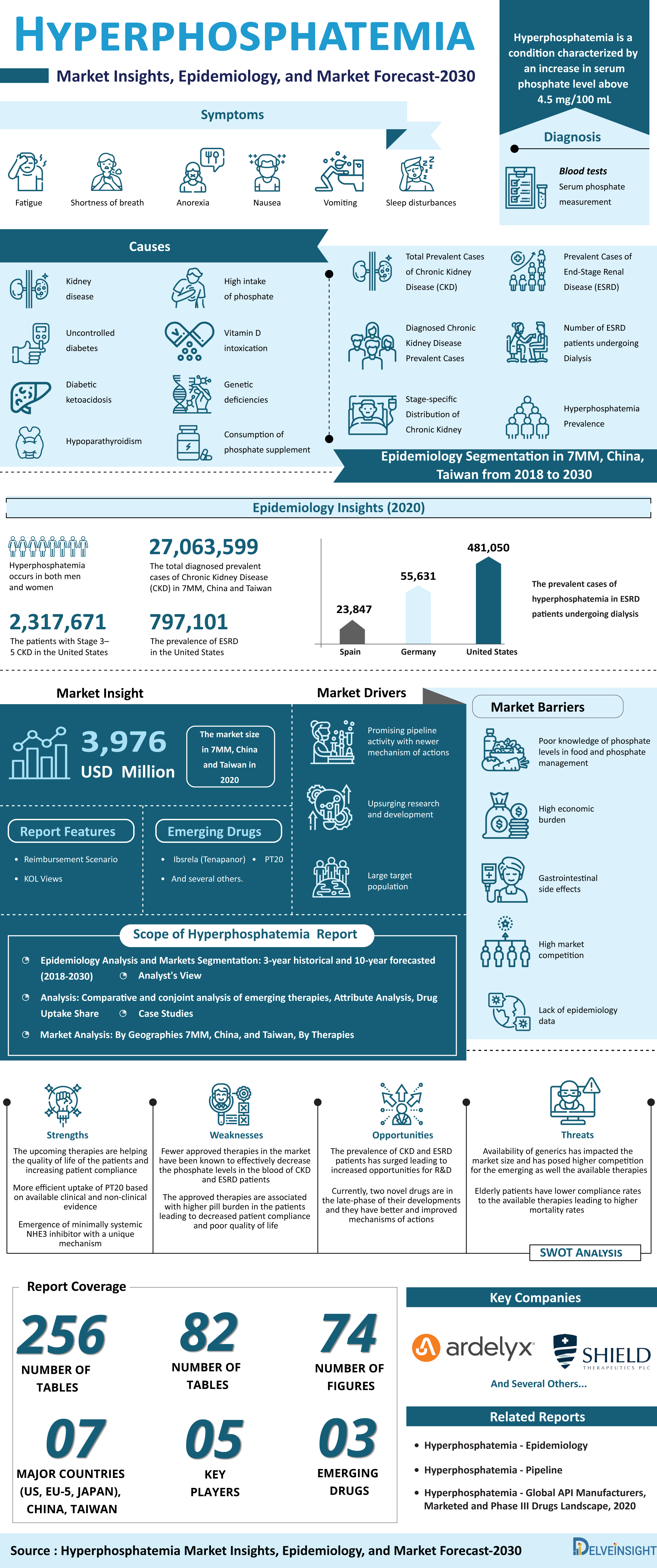 DelveInsight's Hyperphosphatemia Market Insights, Epidemiology, and Market Forecast 2032" report delivers an in-depth understanding of the disease, historical and forecasted epidemiology as well as the Hyperphosphatemia Market Size and Share in the 7MM (i.e. the United States, EU5 (Germany, Spain, Italy, France, and United Kingdom) and Japan).
Hyperphosphatemia: Overview
Hyperphosphatemia is a condition that is characterized by an increased level of phosphate in the blood. It is an asymptomatic effect/condition of another major underlying cause. The normal range for phosphorous is 2.5-4.5 mg/dL. Normal values may vary from laboratory to laboratory.
Explore more details of the market report- https://www.delveinsight.com/sample-request/hyperphosphatemia-market
Key highlights of the Hyperphosphatemia Market Report
As per the Centers for Disease Control and Prevention (2021), more than 1 in 7, i.e., 15% of US adults are estimated to have CKD and as many as 9 in 10 adults with CKD do not know they have CKD. CDC also mentioned that 2 in 5 adults with severe CKD do not know they have CKD.
More than 661,000 Americans have kidney failure. Of these, 468,000 individuals are on dialysis, and roughly 193,000 live with a functioning kidney transplant (National Institute of Diabetes and Digestive and Kidney Diseases, n.d).
As CKD progresses, modest increases in serum phosphate levels within the normal range increase the filtered load of phosphate, and at the same time, the fractional excretion of filtered phosphate increases from 10% to >50%. Only after these compensations are exhausted does overt hyperphosphatemia occur, typically in CKD stages 4-5.
Hyperphosphatmia Epidemiology Insights
Hyperphosphatemia is common in the late stages of chronic kidney disease and is often associated with elevated parathormone levels, abnormal bone mineralization, extra-osseous calcification, and increased risk of cardiovascular events and death. Several classes of oral phosphate binders are available to help control plasma phosphorus levels. Although effective at lowering serum phosphorus, they all have safety, tolerability, and compliance issues that need to be considered when selecting which one to use.
Hyperphosphatmia Epidemiology Segmentation in the 7MM
Total Prevalent Cases
Total Symptomatic and asymptomatic Prevalent Cases
Total Diagnosed Prevalent Cases
Treated Cases
Hyperphosphatemia market size is anticipated to increase during the study period owing to the increasing incident population and rising awareness of Hyperphosphatemia in the 7MM. The expected launch of emerging therapies and the research and development activities of pharmaceutical companies will also fuel the market growth during the forecast period. The market outlook section of the report helps to build a detailed comprehension of the historic, current, and forecasted Hyperphosphatmia market size by analyzing the impact of current and emerging therapies in the market. It also provides a detailed assessment of the market drivers & barriers, unmet needs, and emerging technologies.
Hyperphosphatemia Market Insights
Excess phosphorus levels in ESRD have been linked to a rise in the risk of cardiovascular disease, as well as rises in serum Fibroblast growth factor 23 (FGF-23), a significant serum endocrine hormone that controls phosphorus metabolism, and elevated parathyroid hormone, also known as secondary hyperparathyroidism. Since dialysis is not efficient at removing excess phosphorus, the mainstay of treatment in patients with hyperphosphatemia in advanced chronic kidney disease is the reduction of phosphate intake, which is usually accomplished with avoidance of foods containing high amounts of phosphate and with the use of phosphate-binding drugs taken with meals. Although quite effective, aluminum-containing antacids should not be used as phosphate-binding agents in patients with end-stage renal disease because of the possibility of aluminum-related dementia and osteomalacia (a condition where bones become soft and weak).
Hyperphosphatmia Treatment Market
In September 2014, Auryxia (ferric citrate) was approved by the US FDA for the control of serum phosphorus levels in adults with CKD on dialysis. Apart from this, branded and generic version Sevelamer is available in the market, to control phosphorus levels in adults and children. Fosrenol is a phosphate binder that is indicated for use in ESRD (stage 5) receiving dialysis and, from October 2009, is also indicated in the EU for the treatment of adult patients with CKD who are not on dialysis with serum phosphate > 1.78 mmol/L (5.5 mg/dL) in which a low phosphate diet alone is insufficient to control serum phosphate levels.
Hyperphosphatmia Market Dynamics
The dynamics of the Hyperphosphatemia market is anticipated to change as companies across the globe are thoroughly working toward the development of new drug therapy options to treat this indication. Key players, such as Ardelyx/Kyowa Hakko Kirin, Shield Therapeutics, Chugai Pharmaceutical, Daiichi Sankyo and others are involved in developing novel therapies for Hyperphosphathemia which will eventually influence the market size during the forecast period [2021–2030].
Hyperphosphatmia Market Companies includes-
Akebia Therapeutics
Vifor Fresenius Medical Care Renal Pharma
Astellas Pharma
Ardelyx
Shield Therapeutics, and several others
Hyperphosphatmia Market Drugs includes-
Auryxia (ferric citrate)
Tenapanor
PT-20, and several others
Hyperphosphatmia Market Drivers
Expected rise in cases of chronic kidney disease and patients progressing towards end stage renal disease
Emerging assets targeting underlying cause of Hyperphosphatemia with strong safety profile and reducing pill burden
Hyperphosphatmia Market Barriers
Frequent dosing pattern of phosphate binders
Safety and tolerability concerns of approved therapies
Explore more information on the market report- https://www.delveinsight.com/sample-request/hyperphosphatemia-market
Table of Content
1. Key Insights
2. Executive Summary of Hyperphosphatemia
3. Competitive Intelligence Analysis for Hyperphosphatemia
4. Hyperphosphatemia: Market Overview at a Glance
5. Hyperphosphatemia: Disease Background and Overview
6. Patient Journey
7. Hyperphosphatemia Epidemiology and Patient Population
8. Treatment Algorithm, Current Treatment, and Medical Practices
9. Hyperphosphatemia Unmet Needs
10. Key Endpoints of Hyperphosphatemia Treatment
11. Hyperphosphatemia Marketed Products
12. Hyperphosphatemia Emerging Therapies
13. Hyperphosphatemia: Seven Major Market Analysis
14. Attribute analysis
15. 7MM: Hyperphosphatemia Market Outlook
16. Access and Reimbursement Overview of Hyperphosphatemia
17. KOL Views
18. Market Drivers
19. Market Barriers
20. Appendix
21. DelveInsight Capabilities
22. Disclaimer
23. About DelveInsight
About Us
DelveInsight is a Business Consulting and Market research company, providing expert business solutions for life science vertical and offering quintessential advisory services in the areas of R&D, Strategy Formulation, Operations, Competitive Intelligence, Competitive Landscaping, and Mergers & Acquisitions.
Media Contact
Company Name: DelveInsight Business Research LLP
Contact Person: Yash Bhardwaj
Email: Send Email
Phone: 9193216187
Address:304 S. Jones Blvd #2432
City: Las Vegas
State: NV
Country: United States
Website: https://www.delveinsight.com/