Infantile Spasms Took Away All Happiness of Aayan
Mumbai, Maharashtra, India – June 17, 2022 – Aayan who is a 4-year child now since after 3 day of his life got attacked by a rare neurological disorder known as Infantile Spasms. Since after that the family was completely shattered into the ocean of sorrow as such disease is incurable according to medical science. Aayan is unable to sit, walk, communicate not even recognise his parents his complications increased day by day causing eating & breathing difficulties. Let's pray for Aayan for God's miracle.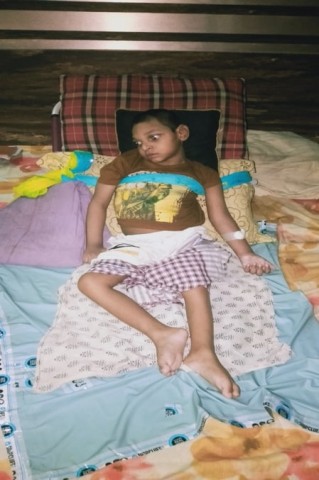 Mr. Satish Kumar Tripathy said "My Child Is Battling A Rare Disorder Since Birth, Please Help! My 4-year-old baby battles a rare disorder! Hello, l am Satish and I am raising funds for my 4-year-old son Aayan who is suffering from a rare disorder since birth named Infantile Spasms. This causes behavioural changes and neurological changes in the child. Infantile Spasms are a rare but serious type of epilepsy. It's associated with a unique, very abnormal brain wave pattern that can cause serious harm to a young, developing brain. Infantile Spasms can be caused by problems with the way the brain developed in the womb, infections, brain injury, or abnormal blood vessels in the brain. My son brought with him light and happiness to our lives after his birth. Each new day, we seized every opportunity to ensure my child had an enjoyable life and a fulfilling future. But not even in my slightest dream could I imagine what future lay ahead of my son. My child's happiness is caged to illness. I wish him to be healthy".
Mr. Satish Kumar Tripathy said "He is struggling to raise the goal amount for Aayan's treatment. He also said that he is a seafarer & all his seafarer friends including his company Fleet Management Pvt Ltd came forward to help Aayan. He said his special thanks to Capt. Aga, Capt. Sunil Singh Negi, Capt. Irfan Rangwalla, Mr. Devendra Kumar, Mr. Arjun Vigg, Mr. Anto Ephrem, Mr. Himanshu Goel & all his friends, family members who are supporting him including team of Impact Guru. Apart from donations blessing is also important for Aayan to get cured."
To read more about Aayan email us. Thank you for supporting Aayan.
Donation URL: https://www.impactguru.com/fundraiser/help-aayan-kumar-tripathy
Media Contact
Company Name: Payakt
Contact Person: Satish Kumar Tripathy
Email: Send Email
Phone: +91 90860 37233
City: Mumbai
State: Maharashtra
Country: India
Website: https://www.impactguru.com/fundraiser/help-aayan-kumar-tripathy