Billboard And Internet Super Star Soulja Boy Has Just Announced His Limited VIP Utility-NFT Collection.

Soulja Boy is known for his innovative and modern approach to creating music. He is often first at new sounds that change the game. Now, BIG DRACO takes on an even more innovative endeavor with a Utility NFT.
Soulja Boy and his team worked hard to give collectors true value in the form of an innovative utility NFT. Every NFT gives the owner special access to exclusive raffles, future NFT's, and events. A very limited collection offering unique NFT rewards for its holders. The unique collection will be a "Lifestyle Pass", and this special edition drop will include Art, Music, Games, and VIP events.
Record your own NFT song with a #1 Billboard recording artist, Soulja Boy. One of these NFT's will also get you backstage access to Soulja Boy. Signed art, gaming consoles, NFT parties, and much more. The future of art is now with Soulja Boy's Utility NFT. A unique approach that will allow you to re-experience NFT's.
Soulja Boy worked with AgentzNFT to create this extremely unique utility NFT. The result was an NFT backed with signed artwork, digital frames, game consoles, and exclusive events. There are only (2,777) NFT's in this drop. 5 different Lifestyle Passes to choose from.
The mission is to create a strong NFT community and offer art assets that will have real-world value. One of the goals for this project is to bring in an exclusive experience with limited availability so people can connect with others and their favorite celebrity, Soulja Boy. Creative utility art, backed by the blockchain and community.
On being asked, the AgentzNFT team said, "this is not a traditional NFT or just digital art, It's a Lifestyle pass. It includes real-world value in the form of limited edition life experiences, signed NFT art, gaming, and access to Soulja Boy! Connecting Digital Assets to Real-World Utility"
The official release, December 1. Opensea, Ethereum network. You can join the community here: Only 2,777 NFTs are available, be early, they will go fast! Soulja Boy Lifestyle Pass NFT.
To learn more visit: https://souljaboynft.io/
ABOUT SOULJA BOY NFT
Soulja Boy Lifestyle Pass is a four-part multi-utility NFT project. This will connect the digital community from the NFT world to the real world. NFT history and the first rapper to do a Super Utility NFT. Art, Music, Gaming, and VIP Events.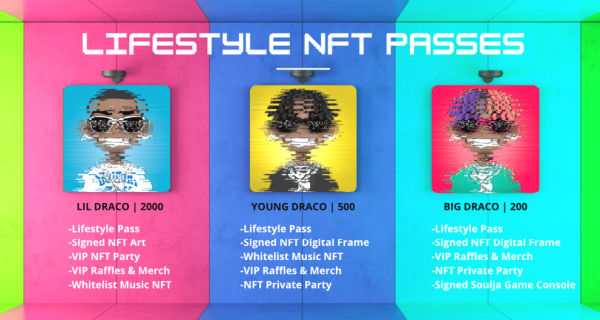 Media Contact
Company Name: AgentzNFT
Contact Person: XAGA
Email: Send Email
Country: United States
Website: agentznft.com